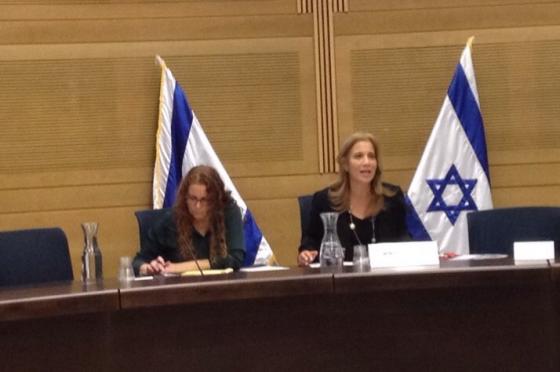 Yesterday, CWJ featured front and center at a Knesset hearing convened by MK Aliza Lavie marking Agunah Day, which falls this year on March 9th.
The hearing explored the connection between agunah and mamzer issues, which are largely a product of the Rabbinate's policy to maintain a secret State blacklist of people it deems ineligible to marry other Jews.  A mamzer is the child born of an illicit relationship (e.g., an secular agunah who wants to get on with her life).
MK Lavie began the session by citing CWJ's position paper on the State blacklist as the authoritative guide to navigating Israel's mamzer problem, and, in concert with our long-standing view, called for eliminating the blacklist. CWJ is the only organization actively working to end the practice of keeping a State blacklist, as it significantly infringes on civil rights and has no place in a democratic country.
CWJ Board member Rivkah Lubitchand CWJ attorney Nitzan Caspi Shiloni each described the ramifications of current state policy. A rabbinic pleader, Rivkah is a leading expert on blacklist-related issues and a prominent activist for social justice and women's rights. Her chilling, powerful account of the damaging effects of the State blacklist - describing women who abort children out of fear, children who are stripped of legal rights and the breakdown of the community through this unjust policy - received enthusiastic applause.Nitzan's description of a recent CWJ case illustrated how the rabbinic court proactively seeks to place women and children on the blacklist, giving a real-world framework to a complex legal problem.
After MK Lavie and CWJ laid out the extensive problems associated with the blacklist, it became clear to all that eradicating the blacklist is the only logical next step.   
Our thanks to our committed partners who are helping spur seminal legal and legislative change to protect and advance the rights of women in Israel, including David Berg Foundation, Jewish Federation of St. Louis, Jewish Women's Foundation of the Greater Palm Beaches, Levi Lassen Foundation, the Greater Miami Jewish Federation, and the Kathryn Ames Foundation, as well as donors whose general support provides a secure foundation for advancing our critical legal work.